DooBeeDooBeeDoo

is a cross-cultural on-line magazine, based on the view that music and community are indivisible, and that musicians, consumers and record companies are all part of one community. The

basic thrust

of the editorial content is that a social awareness can be fostered through music.

 

HarmoNYom presents: Vishwa Mohan Bhatt & Subhen Chatterjee from India!

Date: October 2, 2010
Venue: St. John's Lutheran Church (NY). Text by Dawoud Kringle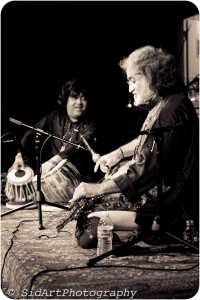 The Music Room concert series presented by HarmoNYom got off to a very good start on the cool autumn evening of October 2nd, 2010 with the presentation of slide guitar virtuoso  Pt. Vishwa Mohan Bhatt and tabla master Pt. Subhen Chatterjee.
St. John's Lutheran Church in the village provided a perfect venue for the concert. The pews had been moved to the side, allowing people to sit on the floor if they wished. It was interesting to see the decoration that Sridhar Shanmugam (Indian Classical dancer and choregrapher) festooned the church with. The resulting combination of Hindu and Christian ornamentation and color was a noticeable contrast, yet blended in a way that seemed almost natural. The dark color tones of the church seemed almost a framework for the brilliantly colored silks, rugs, and brass ornaments used in the invocation of The Music Room.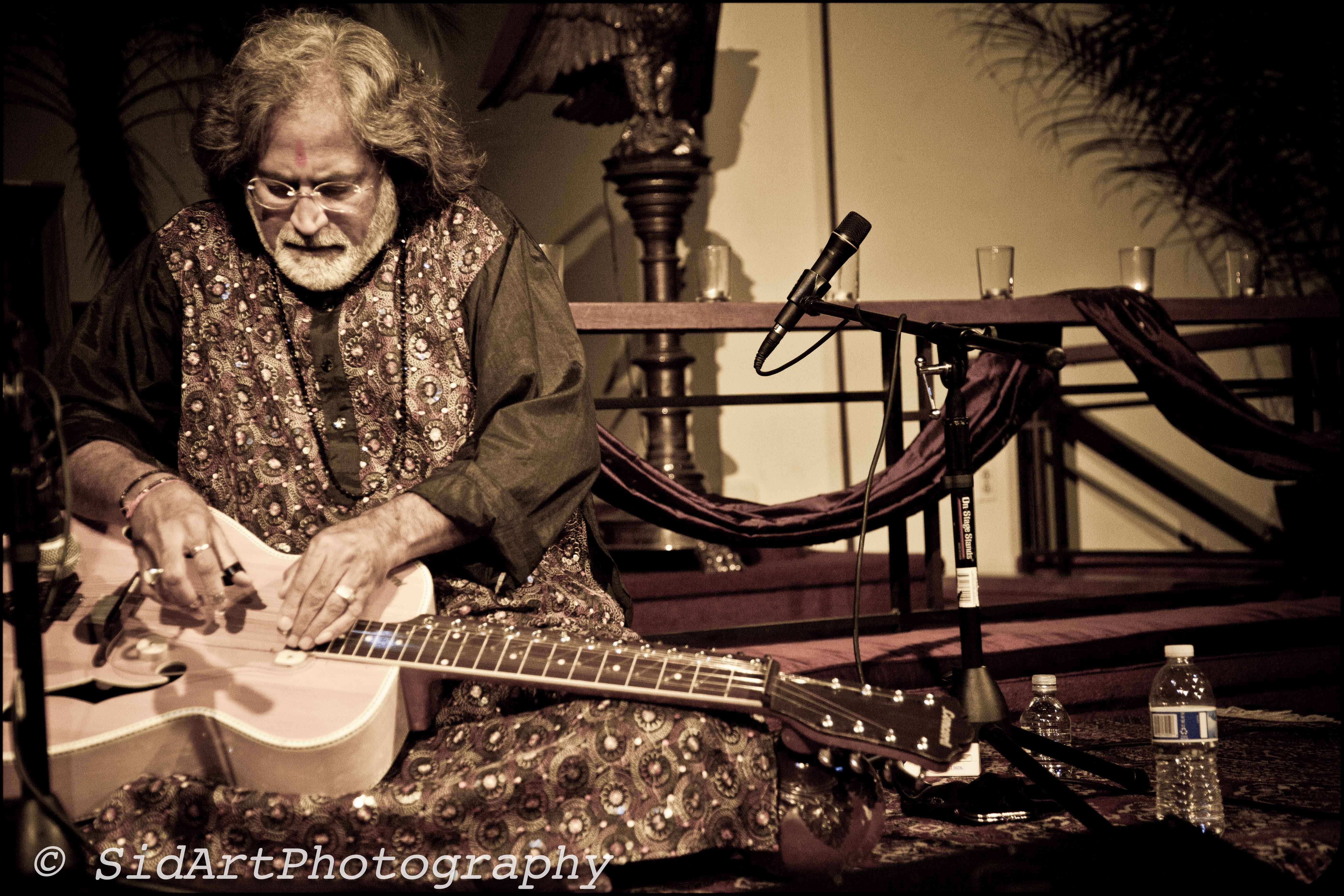 Pt. Vishwa Mohan Bhatt is a unique figure in the world of Classical Indian music. As a teen, so the story goes, he met and was attracted to a German woman who played the guitar. Soon, he realized that he was attracted to the guitar more than he was to her! He recognized the great expressive quality of the guitar, and saw, like any true artistic visionary, the untapped potential within it. This led to him making modifications to the Hawaiian-style slide guitar so that it could facilitate playing Indian ragas. Thus was the Mohan Veena born; a Concord archtop guitar with 19 strings, played with a steel bar as a slide. Pt. Bhatt is a disciple of Pt. Ravi Shankar, and is part of the garana (school of raga) that traces its lineage back to the legendary 16th century master musician Tansen, of the Emperor Akbar's court, and his teacher Swami Haridas. He has released many recordings, including the Grammy-winning A Meeting by the River with Ry Cooder. His style blends the Tantrakari ang (an instrumental style of music) with the Gayaki ang; producing a very vocal quality on his instrument.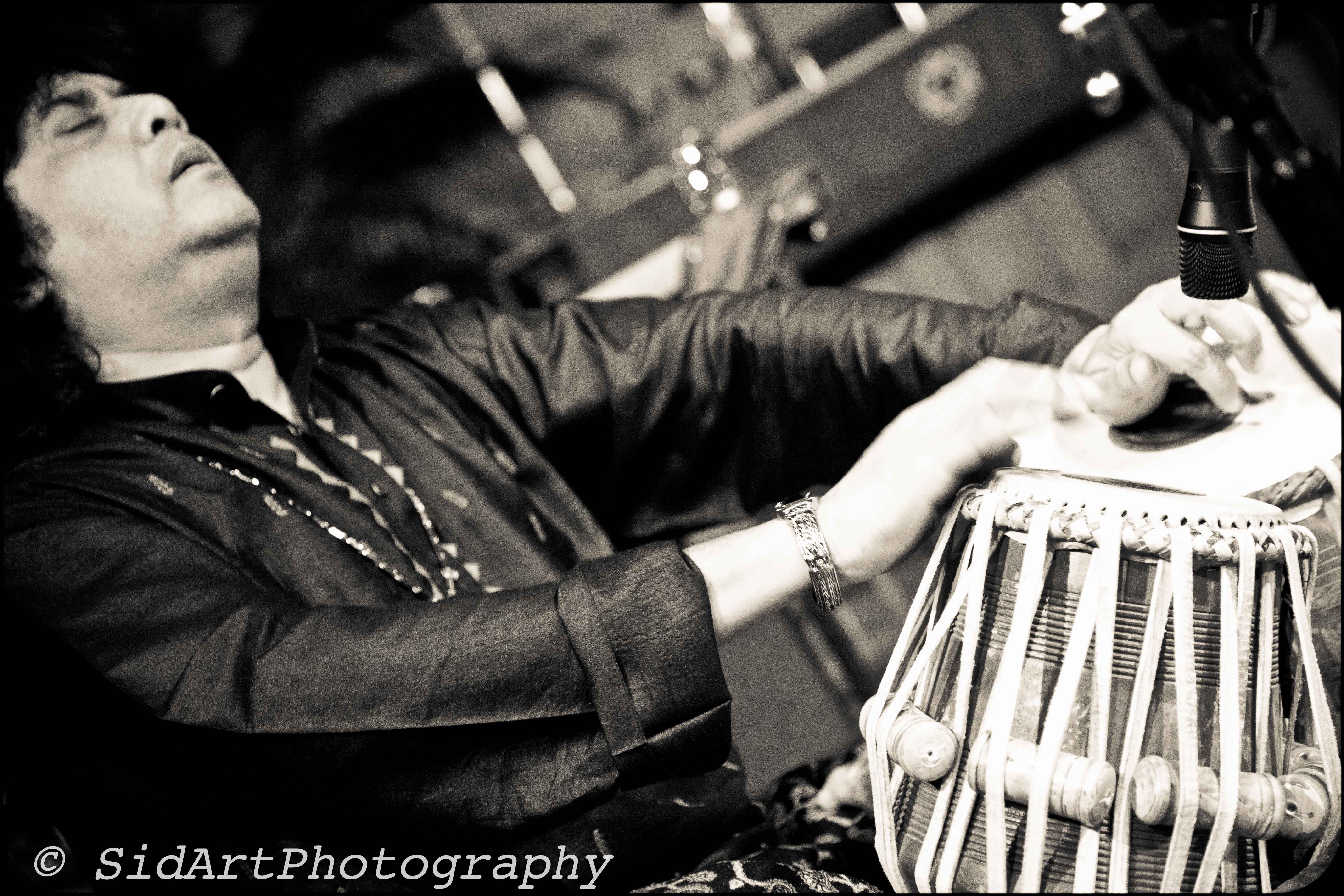 Tabla master Pt. Subhen Chatterjee is the senior disciple of Pt. Swapan Chatterjee. In addition to his flawless classical technique and accomplishments (having worked with the likes of Pt. Bhimsen Joshi, Pt. Jasraj, Ustad Shaheed Parvez Khan, Istad Aashish Khan, and others), he has also led the Indo-fusion band "Karma" and worked with Paul Horn and David Crosby. He also formed an ensemble called "Friends of Drums", with percussionist Sivamani, which provides a platform for up-and-coming talent as well as charity work raising funds for ailing musicians.
Pt. Bhatt and Pt. Chatterjee began with Rag Shyam Kalyan. This is to be played to invoke a meditative, spiritual mood: to "connect with Krishna." The alap in the beginning was both beautiful and dramatic.
He would slowly tease melodies out of the raga, and suddenly whip the notes around with an abandon matched only by its precision. The effect was amazing. His intonation was flawless, even when he was playing at breakneck speed. I noticed that his right hand technique occasionally resembled that of master guitar or banjo players of bluegrass music: especially when he played a jhalla. Pt. Chatterjee joined him in the gat, played in ektal (rhythmic cycle of 12 beats), and the two musicians blended their energies with a marvelous synchronism. The complicated and dangerous waters of raga and taal were navigated with ease. They communicated with each other as if they were friends (which they obviously are).
Later, Pt. Bhatt would mention to the audience his gratitude for his parents, teachers, friends, and supporters, and for this music "which is written in our genes." I have often wondered how much of any music is something that is encoded within our genetic makeup, and how much of that provides both a unifying factor and a necessary contrast with others.
But I'm getting ahead of myself.
The two master musicians explored this raga for quite a long time, gleefully finding new possibilities of the melody and rhythm to be examined and admired. One of the most interesting aspects of their performance is the attention to dynamics and dramatic accents, and creating effects that constantly surprise and stimulate the listener. They were at once serious and intense, yet still humorous and playful. At one point, Pt. Bhatt played a very unusual taan wherein he imitated an echo! I've never heard any raga master do this before; and found myself laughing with delight at the inventiveness of it.
The first set ended with a jhalla that could only be described as pyrotechnic. In fact, Pt. Bhatt's approach to jhalla is quite unique (while, like much of his playing, one can still hear the influence of his teacher Pt. Shankar, in fact, many times I would listen to his taans and think "Shankar's taans!"). This is clearly attributable to his unique approach to guitar/Mohan veena.
The second set presented a very different musical side of the duo. They began with a short version of Rag Basant in teental (16 beat cycle). Unlike the first set, his approach to the rag was more direct; in fact, he came out swinging. This was followed by a composition called "Shanti Mantra" (from his Music for Relaxation CD). This piece is a song. He sang, and invited the audience to sing with him. This piece was very different in that it has a chord progression, something that does not happen in traditional raga. It was interesting how he played the chords on his instrument. The chordal pattern and overall feel of the song were somehow vaguely reminiscent of late period Beatles (and I am not one of those people who associates Indian music with the Beatles). The chords were simple, no extended harmony like one would find in jazz. But to hear it in this context is a very pleasant surprise; and the effect was quite pretty.
The next piece was a new composition based on a Rajistani melody. He also sang this. Pt. Chatterjee's tablas were more subdued on this, as with the previous piece. They continued with a new song called "Sleepless Night" from their new CD. This song had, to my ears, an almost Country music feel to it. I imagine Pt. Bhatt had been exposed to Country music, and assimilated elements of it. This was followed by a short presentation of Rag Hansadawani. The tablas introduced a swinging feel to the piece. The effect was almost playful. The set concluded with a piece from A Meeting by the River. The alap had a pastoral feel to it, and somehow reminded me of the mood of rag guar sarang, but different. The introduction of the tablas gave it a joyful mood, and it ended with a breakneck teehi.
I had the opportunity to meet and speak with Pt. Bhatt and Pt. Chatterjee before the performance. I kept my conversation brief, as they needed to prepare for their performance. Both men have that quality that all master musicians have: absolute confidence in what they do, balanced with a genuine humility and sincerity. One thing I noticed about Pt. Chatterjee was a silver pendant he wore that had the symbols of the Hindu Om, the Christian cross, and Islamic calligraphy of the name Allah. This was an eloquent statement of unity. He is soft spoken, and friendly. Pt. Bhatt is an easily outgoing, yet very gracious man; and quite well suited to the role his life has placed him in. He knows precisely what he is doing and how he is doing it. Meeting both men was a great pleasure and honor.
HarmoNYom is to be congratulated for their presentation of Indian music concerts. New York City may look forward to the beginning of a great tradition of more presentations of this truly great music. In these times, we are all in desperate need of music that inspires and beautifies. A truly civilized society would consider this and other great music a national treasure.
HarmoNYom's The Music Room initiative, featuring intimate concerts with five Indian Classical Maestros for the season 2010/2011, will donate 10% of all revenues to Music Basti based in India. For more details, contact Veronique Lerebours and Girish Raj by at info@harmonyom.org
DooBeeDooBeeDoo is a cross-cultural on-line magazine, based on the view that music and community are indivisible, and that musicians, consumers and record companies are all part of one community. The basic thrust of the editorial content is that a social awareness can be fostered through music.
---
Date: Friday, October 29, 2010
Venue: Town Hall
Text and photos by: Veronique Lerebours (HarmoNYom)
"Dazzling Zakir Hussain on tabla and virtuoso Niladri Kumar on sitar delivered to the New Yorkers an incredible and astonishing performance. That was nothing short of majestic to mesmerize the bursting audience! The charisma of both artists, the geniality and creativity of their agile fingers flirting with their respective instruments and the brilliant combination of two gifted maestros where all there!
Niladri adding up to his magnificent sitar a feel of Pink Floyd's
psychedelic sound… a visceral taste of the new India?
We wish you both so much more to come!"
DooBeeDooBeeDoo is a cross-cultural on-line magazine, based on the view that music and community are indivisible, and that musicians, consumers and record companies are all part of one community. The basic thrust of the editorial content is that a social awareness can be fostered through music.
---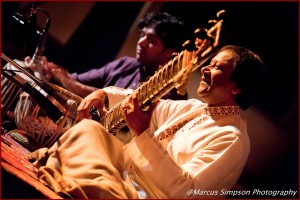 Date: Febuary 26, 2011
Venue: St. John's Lutheran Church (NY)
Presented by HarmoNYom
Reviewed by Dawoud Kringle
When a concert performed by Ustad Shaheed Parvez Khan is announced, those in the know ask two questions: Where? And When?
While it is customary to give a brief biographical description of an artist while writing an article like this, I'm afraid it does little justice to prepare for the experience of the music itself. That said, Shaheed Parvez Khan, known affectionately by his students as Ustad-ji (a term of respect used by his students; which I will hence refer to him in this article), was born into a family of musical royalty. Belonging to the Etawah Gharana, with musical and family ancestors including Sahabadad Khan, Imdad Khan, Enayat Khan, Waheed Khan, and Vilayat Khan. He was initiated into the Gharana by his father and teacher Ustad Aziz Khan. Achieving great artistic success at an early age, he became a Top Grade Artist of A.I.R., received numerous awards, including the "Sur Shringaar," the "Kumar Gandharva Samman," the "M. L. Koser Award," and the "Sangeet Natak Acadamy Award." He has released many recordings, performed in all the major music festivals in India, and has toured the US, Europe, Russian, Canada, Middle East, Africa, and Australia.
Joining him was New York based tabla virtuoso Nitin Mitta. Receiving his early training in Hyberadad from Pandit G. Satyanaranyana and Pandit Arvind Mulgaonkar; both disciples of Ustad Amir Hussain Khan of the Farukhabad Gharana. Mitta has performed with masters such as Pandit Vishwa Mohan Bhatt, Pandit Jasraj, Pandit Sajan Mishra, Istad Mishrat Khan, Ustad Irshad Khan, and many others. He is making a well-deserved reputation for himself as a brilliant tabla player.
On a quiet, and mildly cold Saturday night at St. John's Lutheran Church in New York City, HarmoNYom presented the second of its Music Room concert series. These concerts are designed to recreate the ancient music rooms of India, where intimate gatherings would allow people to experience the music in comfort and with no distractions (it may be added that they are also donating 10% of all revenues from the Music Room Series to support Music Basti; a non-profit charity bringing music education to underprivileged children in India). In front of the stage was an open area with cushions where people could sit on the floor, just like in the old days. And frankly, that's the best way to appreciate this music.
I arrived early, just before the sound check. Ustad-ji would arrive moments after I did. Veronique Lerebours, the founder of HarmoNYom, (producer of these concerts), and tireless purveyor of the finest Indian classical music in New York City, the production staff directed by Girish Raj, volunteers, and Ustad-ji's students, were busy in preparation. Ustad-ji arrived and began the sound check. The people in the room were quiet while Ustad-ji played. He has that effect on people. Watching and listening to him tune is an interesting experience for any musician. He made some last minute adjustments on his sitar; an Ibrahim & Bashir SPK model. This sitar, one he'd had a hand in designing, is an extension of the Vilayat Khan design. Its tone is more pronounced in its mid range and bass and had a presence that contrasts the stereotypically metallic or trebly tone associated with the sitar (especially by those in the west, who know the sitar only through its presence in pop music.) Ustad-ji exploits the acoustic properties of the instrument well.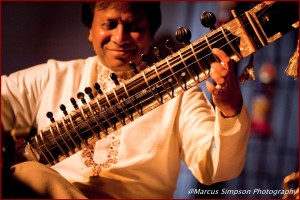 A platform a little under a meter high had been set up for use as a stage. This was a good idea; it allowed good visibility for everyone in the audience. And as with other HarmoNYom produced concerts in this venue, the Indian decorations by Sridhar Shanmugam blended in an indescribable way with the traditional Christian trappings of the church.
Ustad-ji and Mitta retired to the "green room" in the church's basement (which wasn't green at all, actually.) The doors were opened, and the people who had amassed outside filed in. Before long the place was packed. Everyone who is part of the classical Indian music scene in New York City was there. Such is the immensity of Ustad-ji's well deserved reputation.
At this point, it is probably relevant to mention the immense respect that Ustad-ji commands. It is quite noticeable. Having studied under him myself, I had the opportunity to observe what can only be described as a subculture echoing an ancient tradition. He forms an axis around which revolves a miniature society of students and aficionados. His students and assistants tend to his needs. Everywhere he goes – and he travels a lot – the events seems to coalesce into a world within a world, with him at the center. Such is the force of his personality and monumental accomplishments; balanced by a humble and unobtrusive nature.
Finally, Ustad-ji and Mitta took the stage. After some last minute tuning, Ustad-ji announced that he would play Rag Kiwani in alap, jhaptal (10 beat cycle), rupaktal (7 beat cycle) and teental (16 beat cycle).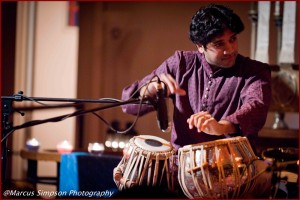 Before playing, Ustad-ji entered into a noticeable state of intense concentration. He was no longer in a church performing for an audience; he immersed himself into the music. The first notes of the raga rang through the church and washed over the audience. The power of the music drew everyone into the raga's presence and mood. Experiencing the sad and almost tragic mood of this raga as a visceral sensation was impossible to escape. For my own part, I tried taking notes to write this article. I couldn't write. At times, the sheer beauty of a particular musical phrase brought tears to my eyes. I wasn't alone. Many times, the audience would gasp or nearly swoon in astonishment at the music he drew from his instrument.
He possesses a sense of drama and makes marvelous use of dynamics in his playing. He would, for example, during an alap, mute the droning strings, and coax a melody from the strings, bending each note until no more vibration could come from it; and drawing the listener into the soul of the music. Other times, while interacting with the tabla during a jor or jhalla, he would burst into a taan of blinding speed and complexity, seemingly out of nowhere, and running through the taal with unmitigated abandon, always landing on his feet. Never repeating himself, always bringing out new ideas, new colors, new shades of meaning from the raga.
One of Ustad-ji's trademarks is his use of the tarb (sympathetic strings.) He is not content to merely let them resonate in sympathy with a note or harmonic, nor to merely strum them as an effect. He often plucks individual notes on the tarb that blend into the melodic statement he's making. Those with no experience playing sitar may have difficulty imagining how difficult this is.
Often, after executing some musical impossibility, he would smile with glee and amusement. He seems to get a kick out of playing something incredibly difficult, as if he were standing aside watching some marvelous event. But this was no mere act of technical excellence (although he has plenty of that.) All the subtleties of the melodic unfolding, all the mathematical precision and aesthetic beauty of the taans were executed with an inexorable force and a natural beauty.
Nitin Mitta communicated with Ustad-ji effortlessly. He was more than equal to the task of standing next to Ustad-Ji, and displayed a flawless mastery of the tabla. His accompaniment held the rhythm and momentum of the music, and his solos were eloquent statements of the rhythmic beauty of the taal he was playing. His tone was muscular, with a powerful presence, yet not intrusive.
The first set ended on a quiet note; no bang at the end of a jhalla. It seemed appropriate to the mood of the raga.
After an intermission, Ustad-ji and Mitta took to the stage again. He began with raga Bihag. The mood of this piece was a noticeable contrast to the raga in the first set. It was lighter, more playful. It was like a stroll through a garden. As the raga developed, the intensity manifested itself. They played with an abandon that would have been reckless had it not been for their superb control.
They ended with Anar Anar; a piece based in Misra Khamaj that Ustad-ji usually ends his concerts with (and often mixes elements of other ragas with). He treated the lyrical demands of the composition with his usual mastery, imagination, and sensitivity. It was a fitting end to a marvelous concert. The music ended, and the audience came back to the mundane realities of this world a little richer, more at peace, and having had the mirrors of their souls clarified through music. Such is the service Ustad Shaheed Parvez Khan performs for humanity.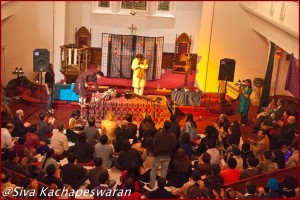 As I said earlier in this article, I had studied with Ustad-Ji, and am personally acquainted with him. While I cannot say I am one of his best students, nor are we close, I know him as a supremely confident man, with an immense inner power; yet possessing an old world humility, quiet grace, and good humor. It's his world; and he sees to it that you are welcome as an honored guest in it. He's someone you immediately like and are comfortable with; yet there is no mistaking that you are in the presence of an extraordinary person.
When I left the church, and took the train downtown, I met a woman who had attended the concert. She told me that she found the music amazing and transforming; and that it was her first experience listening to Indian classical music live.
She couldn't have made a better choice.
THURSDAY APRIL 11, 2013 at 10:30 PM

WATCH! The MUSIC ROOM FESTIVAL on TELEVISION....

The Music Room Festival "A Tribute to Pandit Ravi Shankar" presented last week-end by HarmoNYom and Rubin Museum of Art in NYC will be broadcasted on TV ASIA!

The Brief Highlights of the following event is scheduled for airing on TV Asia Community Roundup program on April 11th at 10:30pm (ET),
and repeated for West Coast viewers at 11:30pm (PT).
This program will also be repeated on April 12th at 7:30pm (ET).

In the event of a breaking and urgent story,TV Asia may preempt and replace the current story which however shall always be rescheduled the next day at the same time.
We encourage you to watch the coverage on that day.

TV Asia also on Facebook Page: www.facebook.com/tvasiausa

Not a TV Asia subscriber yet?
Call Toll Free: Dish Network: 1-888-723-0189 Channel # 700
To Watch on Cable: 1-800-652-2253 Channel # 1167
Rogers Cable: 1-888-764-3771 Channel # 846
(provide your zip code to find out your local cable provider)
24 Hours RAGA LIVE FESTIVAL at
Now in its seventh year 2013, Make Music New York, "the largest music event ever to grace Gotham" (Metro New York), is a unique festival of free concerts in public spaces throughout the five boroughs of New York City, all on June 21st, the first day of summer.
MMNY takes place simultaneously with similar festivities in more than 514 cities around the world — a global celebration of music making.
http://www.fetedelamusique.culture.fr/en/International/around-the-world/p_monde-136/

The next Make Music New York is on Friday, June 21, 2013.
From 10 in the morning to 10 at night, musicians of all ages, creeds, and musical persuasions — from hip hop to opera, Latin jazz to punk rock — perform on streets, sidewalks, stoops, plazas, cemeteries, parks and gardens. From high school bands to marquee names, MMNY is open to anyone who wants to take part, enjoyed by everyone who wants to attend.
The next Make Music New York is on Friday, June 21, 2013.
Over 875 MMNY concerts took place in 2009, 1,080 in 2010, 1,035 in 2011, and 1,049 in 2012. Recent highlights include:
New York's first open-air performance of Xenakis's Persephassa, with the audience listening from rowboats in the Central Park Lake, surrounded by percussionists.
Over 70 punk bands playing throughout Governors Island (nicknamed "Punk Island" for the day).
12 funk concerts by Christian McBride, Pimps of Joytime, Burnt Sugar, and others for the inmates on Rikers Island ("Funk Island")
A Lincoln Square block party, with performances by the NYC Opera, NY Philharmonic, Jazz at Lincoln Center, ASCAP, American Composers Orchestra, and American Opera Projects.
An historic "Griot Summit" with dozens of West African musicians at Wave Hill in the Bronx.
New Orleans-style Second Line jazz parades across three Manhattan neighborhoods, led by the Jazz Gallery, Hungry March Band, and Jazzmobile.
A sing-it-yourself, world premiere performance of Philip Glass's The New Rule in Times Square, conducted by Kent Tritle, in partnership with NPR Music.

A unique festival of free concerts in public spaces throughout New York City, all on the first day of summer.

In partnership with Sing For Hope, 88 pianos available on NYC parks and streets, for anyone to use.
Hard-rocking corporate executives competing in Bryant Park ("Play Hard: the MMNY Corporate Challenge").
99 percussionists playing John Luther Adams's Inuksuit outside in Harlem, presented by Miller Theatre
Louis Andriessen's Hoketus played from the balconies of the New York Stock Exchange on Wall Street.
Bronx middle school jazz bands in Central Park, joined by Roberta Flack.
A block party with four grand pianos in the middle of Cornelia Street in the West Village.
Jazz block parties with Arturo O'Farrill's Latin big band, Grammy-winning trumpeter Roy Hargrove, and African Jazz with pianist Randy Weston.
Yoko Ono's Secret Piece in Central Park at 5AM.
A complete, 18-hour vibraphone performance of Erik Satie's Vexations on Wall Street; a 24-hour Indian Raga marathon at WKCR (24 hours Raga Live Festival presented by WKCR 89.9 FM, HarmoNYom and Brooklyn Raga Massive in 2012); 
a 24-hour-long interactive electronic piece under the Manhattan Bridge by British artist Nick Franglen.
Over 100 local rock bands blanketing Bedford Avenue in Williamsburg.
The East Coast premiere of Henry Brant's Orbits for 80 trombones at the Guggenheim Museum.
Hundreds of guitarists playing Beatles songs in Union Square, a 40-member "Accordion Forest" in Park Slope, 64 toy pianos at the South Street Seaport, and other massive groups assembled by Make Music New York.
French pop star Yannick Noah at Central Park Summer Stage.
Alvin Curran's Maritime Rites performed by the West Point Band from boats on the Central Park Lake.
Tamil Church choirs in Middle Village, high school Christian rock bands in Sunset Park, and a kazoo jam session outside a Morningside Heights church.
Special Make Music New York concerts presented by ABC No Rio, Americas Society, Arts Brookfield, Brooklyn Borough Hall, Carnegie Hall, Celebrate Brooklyn!, City Winery, Cornelia Street Cafe, Drom, Flushing Town Hall, French Embassy, Friends of the High Line, Goethe Institut, ISSUE Project Room, Joe's Pub, Kaufman Center, Madison Square Park Conservancy, MATA, Metropolitan Opera, New York Mets, 92nd Street Y, NPR Music, Queens Museum of Art, River to River, Rubin Museum, SOB's, Symphony Space, Times Square Alliance, WNYC, and many more.http://makemusicny.org/about/overview/