A cross-culture on-line music magazine
India's Debapriya Adhikary and Samanwaya Sarkar: Jugalbandi in the Village!
Date: May 18, 2010
Venue: St. John's Lutheran Church, NY

Text by Dawoud Kringle
http://www.doobeedoobeedoo.info/2010/06/04/indias-debapriya-adhikary-and-samanwaya-sarkar-jugalbandi-in-the-village/
Photos by courtosy of Marcus Simpson
On Tuesday, May 18th, 2010, St. John's Lutheran Church played host to the latest in HarmoNYom's production. HarmoNYom, founded and coordinated by Veronique Lerebours, celebrated its first anniversary with a concert. The concert was a jugalbandi (duet) between two young masters, Debapriya Adhikary (vocals) and Samanwaya Sarkar (sitar).
Both men are presently disciples of Padmabhsan Girija Devi-ji of the Benares Gharana (a gharana is a school of thought/tradition in Hindustani classical music; the Benares Gharana was founded by Pandit Gopal Mishra, and is based on a style of khayal singing known by Thumri singers of Benares and Gaya). Debapriya is also learning with Pt. Vijay Kichlu of Agra Gharana. They also studied under Pandit Kumar Prasad Mukhopadhyay of the Agra Atrauli Gharana. Adhikary was first introduced to the rudiments of saragam by his mother, Anita Adhikary, and later studied with Pandit Samaresh Chawdhury of Senia Gharana. Sarkar also studied with Pandit Sasonka Banopadhyay, Pandit Shyamal Chatterjee of Senia Gharana, and Pandit Manilal Nag of the Bishupar Gharana Sarkar has always gotten deep guidance from his father Swapan Sarkar, who himself has learnt under Kirana tradition.
Joining them on tabla was Nitin Mitta. Mitta was a student of Pandit G. Satyanarayana, and was later mentored by Pandit Arvid Mulgoonkar. He tours the world, and has performed with masters such as Pandit Nayan Ghosh, Pandit Vishwa Nohan Bhatt, Ustad Nishat Khan, and Ustad Shaheed Parvez Khan. David Taylor provided his services on tambura. Taylor is a disciple of sarangi master Pt. Ramesh Misra.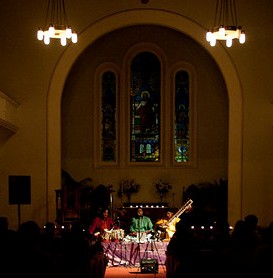 St. John's is a comfortable place, and well suited for concerts. On this rainy and unseasonably cold Tuesday night, the church filled steadily with aficionados of raga, as well as the more celebrated names in the New York classical Indian music scene. A sample: Pt. Ramesh Mishra (sarangi), Daisy Paradis (sitar), Ikhlaq Hussain (sitar), Mishra Schriber (tabla); and several visiting masters from India; Ustad Maskoor Ali Khan (vocals), Krishna Bhatt (sitar), Snehasish Mozumder (mandolin) and Pandit Purvi Parikh (vocals). As the musicians took to the stage, they exchanged greetings of respect with the visiting masters. This would be the debut New York City performance of the Adhikary and Sarkar jugalbandi.
They began with Rag Hindol, a spring raga consisting of five notes. The alap (free-form introduction wherein the mood of the raga is established) was marvelous. Adhikary and Sarkar explored the nuances of the raga, exchanging musical phrases in a conversational manner. As the piece unfolded, the two displayed an ever-increasing abandonment to their virtuosity. Sarkar's sitar playing was sublime and authoritative. He navigated his way around the notoriously difficult to play sitar with ease. His use of meend (sliding/bending strings to create a legato effect reminiscent of vocal quality) was imaginative and beautiful. Adhikary's vocals were technically flawless, and he possessed a marvelous quality of expression. In fact, his whole stage presence was quite outgoing and expressive, an interesting contrast to Sarkar's somewhat serious demeanor. Adhikary also played the swarmandal (a string instrument somewhat resembling a zither or autoharp). I was immediately struck by how well it complemented the sound of the sitar.
After the alap, their rendition of Hindol continued in the rupak tal (cycle of seven beats). It became apparent why Mitta's work on tabla is sought by world-class masters. He showed excellent command of the tabla, and his tone was clear and powerful, yet quite lyrical, an essential quality in tabla playing.  And his communication with Adhikary and Sarkar was nothing short of exhilarating. The three men flew around the nuances of Rag Hindol, interpreting it in a dynamic and dramatic manner.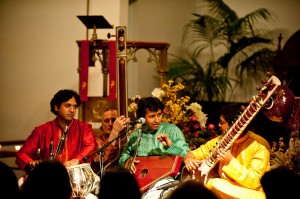 The group continued with rag Shankara. Their approach to this raga was different than the way they approached Hindol. There was a sweetness to it, more delicacy.
After this, they played a composition in the Tappa variation of rag Kafi. This has a more serious mood to it. They played it in addhatal, a swinging, almost marching variation on teental (16 beat cycle). The effect was quite powerful. They concluded with a beautiful composition in rag Dadra. At the end, the musicians received a well-deserved standing ovation, the masters in the audience sincerely expressing their delight with the young musician's performance.
Both men showed that their approach to the combination of sitar and vocals – considered to be somewhat unusual – could be approached with grace and finesse. They complemented each other beautifully. They upheld the traditions of this music, and simultaneously expanded it with their combination of the Dhrupad, Khayal, and Tantrakari styles. And Mitta's tabla work complemented all that they did.
After the concert, the audience was invited to join the musicians and producers in a reception. I had the opportunity to speak to Adhikary, Sarkar, and Mitta. They all were very humble and charming gentlemen.
There is a unique beauty and depth of artistry in the Indian classical tradition that needs to be preserved and supported. Veronique Lerebours and her organization HarmoNYom are to be commended for their work in presenting these concerts. They may be visited at www.harmoNYom.org.
The musicians may be visited at www.devasaman.com