http://www.doobeedoobeedoo.info/2010/10/22/harmonyom-presents-vishwa-mohan-bhatt/

Date: October 2, 2010
Venue: St. John's Lutheran Church (NY)
Text by Dawoud Kringle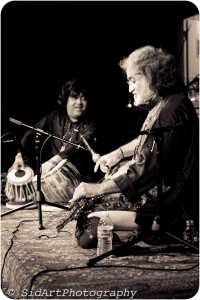 The Music Room concert series presented by HarmoNYom got off to a very good start on the cool autumn evening of October 2nd, 2010 with the presentation of slide guitar virtuoso  Pt. Vishwa Mohan Bhatt and tabla master Pt. Subhen Chatterjee.
St. John's Lutheran Church in the village provided a perfect venue for the concert. The pews had been moved to the side, allowing people to sit on the floor if they wished. It was interesting to see the decoration that Sridhar Shanmugam (Indian Classical dancer and choregrapher) festooned the church with. The resulting combination of Hindu and Christian ornamentation and color was a noticeable contrast, yet blended in a way that seemed almost natural. The dark color tones of the church seemed almost a framework for the brilliantly colored silks, rugs, and brass ornaments used in the invocation of The Music Room.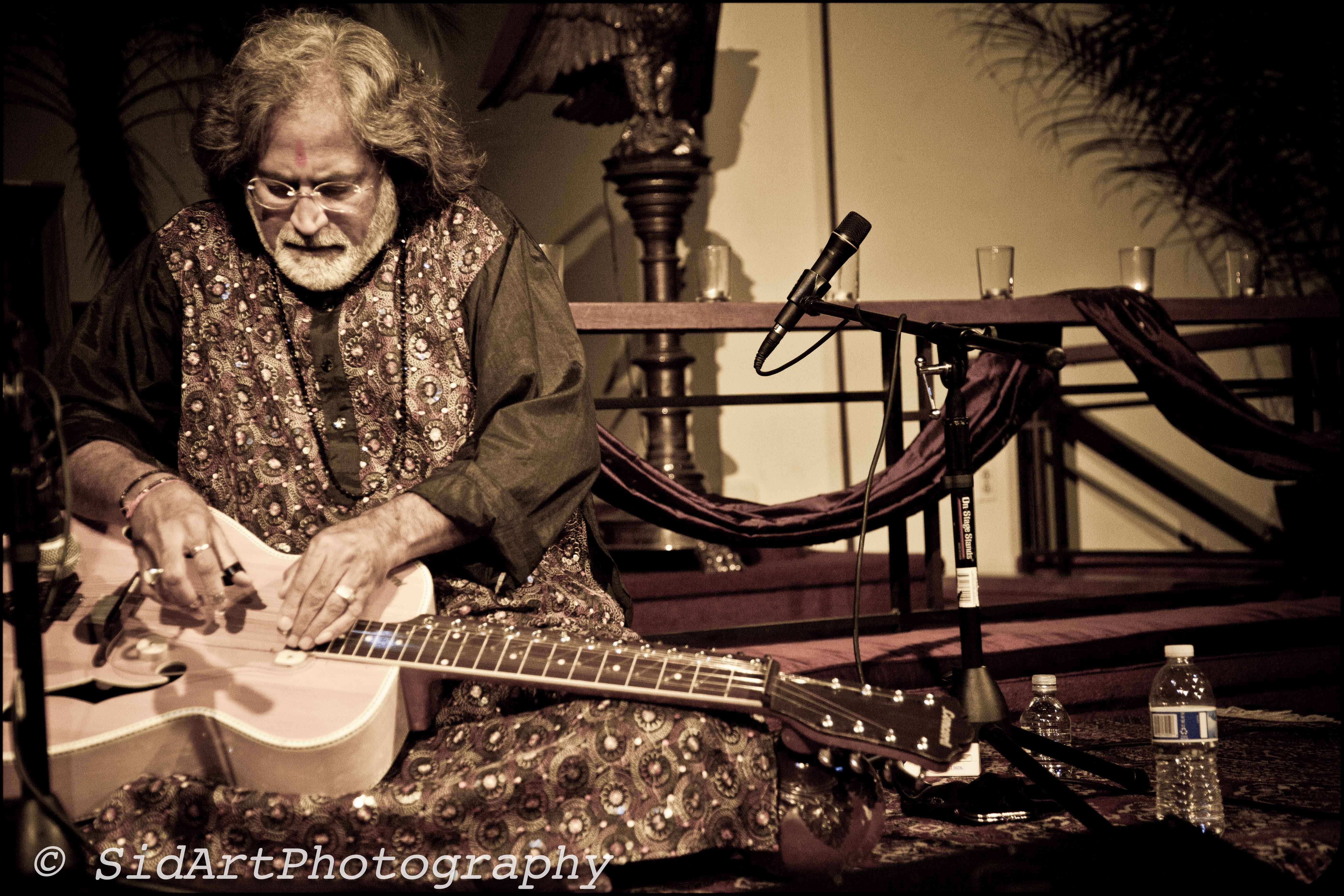 Pt. Vishwa Mohan Bhatt is a unique figure in the world of Classical Indian music. As a teen, so the story goes, he met and was attracted to a German woman who played the guitar. Soon, he realized that he was attracted to the guitar more than he was to her! He recognized the great expressive quality of the guitar, and saw, like any true artistic visionary, the untapped potential within it. This led to him making modifications to the Hawaiian-style slide guitar so that it could facilitate playing Indian ragas. Thus was the Mohan Veena born; a Concord archtop guitar with 19 strings, played with a steel bar as a slide. Pt. Bhatt is a disciple of Pt. Ravi Shankar, and is part of the garana (school of raga) that traces its lineage back to the legendary 16th century master musician Tansen, of the Emperor Akbar's court, and his teacher Swami Haridas. He has released many recordings, including the Grammy-winning A Meeting by the River with Ry Cooder. His style blends the Tantrakari ang (an instrumental style of music) with the Gayaki ang; producing a very vocal quality on his instrument.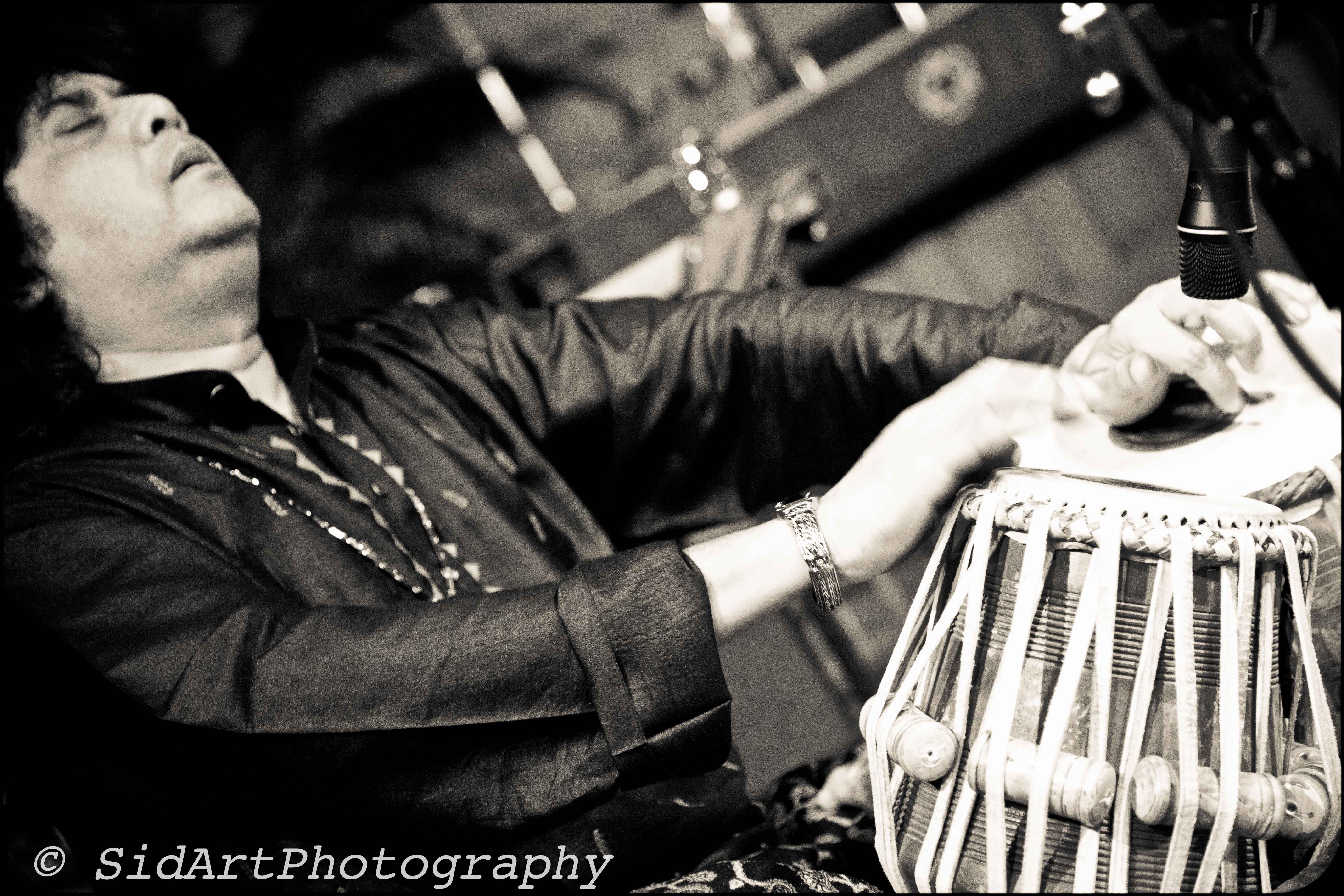 Tabla master Pt. Subhen Chatterjee is the senior disciple of Pt. Swapan Chatterjee. In addition to his flawless classical technique and accomplishments (having worked with the likes of Pt. Bhimsen Joshi, Pt. Jasraj, Ustad Shaheed Parvez Khan, Istad Aashish Khan, and others), he has also led the Indo-fusion band "Karma" and worked with Paul Horn and David Crosby. He also formed an ensemble called "Friends of Drums", with percussionist Sivamani, which provides a platform for up-and-coming talent as well as charity work raising funds for ailing musicians.
Pt. Bhatt and Pt. Chatterjee began with Rag Shyam Kalyan. This is to be played to invoke a meditative, spiritual mood: to "connect with Krishna." The alap in the beginning was both beautiful and dramatic.
He would slowly tease melodies out of the raga, and suddenly whip the notes around with an abandon matched only by its precision. The effect was amazing. His intonation was flawless, even when he was playing at breakneck speed. I noticed that his right hand technique occasionally resembled that of master guitar or banjo players of bluegrass music: especially when he played a jhalla. Pt. Chatterjee joined him in the gat, played in ektal (rhythmic cycle of 12 beats), and the two musicians blended their energies with a marvelous synchronism. The complicated and dangerous waters of raga and taal were navigated with ease. They communicated with each other as if they were friends (which they obviously are).
Later, Pt. Bhatt would mention to the audience his gratitude for his parents, teachers, friends, and supporters, and for this music "which is written in our genes." I have often wondered how much of any music is something that is encoded within our genetic makeup, and how much of that provides both a unifying factor and a necessary contrast with others.
But I'm getting ahead of myself.
The two master musicians explored this raga for quite a long time, gleefully finding new possibilities of the melody and rhythm to be examined and admired. One of the most interesting aspects of their performance is the attention to dynamics and dramatic accents, and creating effects that constantly surprise and stimulate the listener. They were at once serious and intense, yet still humorous and playful. At one point, Pt. Bhatt played a very unusual taan wherein he imitated an echo! I've never heard any raga master do this before; and found myself laughing with delight at the inventiveness of it.
The first set ended with a jhalla that could only be described as pyrotechnic. In fact, Pt. Bhatt's approach to jhalla is quite unique (while, like much of his playing, one can still hear the influence of his teacher Pt. Shankar, in fact, many times I would listen to his taans and think "Shankar's taans!"). This is clearly attributable to his unique approach to guitar/Mohan veena.
The second set presented a very different musical side of the duo. They began with a short version of Rag Basant in teental (16 beat cycle). Unlike the first set, his approach to the rag was more direct; in fact, he came out swinging. This was followed by a composition called "Shanti Mantra" (from his Music for Relaxation CD). This piece is a song. He sang, and invited the audience to sing with him. This piece was very different in that it has a chord progression, something that does not happen in traditional raga. It was interesting how he played the chords on his instrument. The chordal pattern and overall feel of the song were somehow vaguely reminiscent of late period Beatles (and I am not one of those people who associates Indian music with the Beatles). The chords were simple, no extended harmony like one would find in jazz. But to hear it in this context is a very pleasant surprise; and the effect was quite pretty.
The next piece was a new composition based on a Rajistani melody. He also sang this. Pt. Chatterjee's tablas were more subdued on this, as with the previous piece. They continued with a new song called "Sleepless Night" from their new CD. This song had, to my ears, an almost Country music feel to it. I imagine Pt. Bhatt had been exposed to Country music, and assimilated elements of it. This was followed by a short presentation of Rag Hansadawani. The tablas introduced a swinging feel to the piece. The effect was almost playful. The set concluded with a piece from A Meeting by the River. The alap had a pastoral feel to it, and somehow reminded me of the mood of rag guar sarang, but different. The introduction of the tablas gave it a joyful mood, and it ended with a breakneck teehi.
I had the opportunity to meet and speak with Pt. Bhatt and Pt. Chatterjee before the performance. I kept my conversation brief, as they needed to prepare for their performance. Both men have that quality that all master musicians have: absolute confidence in what they do, balanced with a genuine humility and sincerity. One thing I noticed about Pt. Chatterjee was a silver pendant he wore that had the symbols of the Hindu Om, the Christian cross, and Islamic calligraphy of the name Allah. This was an eloquent statement of unity. He is soft spoken, and friendly. Pt. Bhatt is an easily outgoing, yet very gracious man; and quite well suited to the role his life has placed him in. He knows precisely what he is doing and how he is doing it. Meeting both men was a great pleasure and honor.
HarmoNYom is to be congratulated for their presentation of Indian music concerts. New York City may look forward to the beginning of a great tradition of more presentations of this truly great music. In these times, we are all in desperate need of music that inspires and beautifies. A truly civilized society would consider this and other great music a national treasure.
HarmoNYom's The Music Room initiative, featuring intimate concerts with five Indian Classical Maestros for the season 2010/2011, will donate 10% of all revenues to Music Basti based in India. For more details, contact Veronique Lerebours and Girish Raj by at info@harmonyom.org.